Before I launch into the back story behind this piece, I feel it is probably best to give a little history on the Nike/ Batman relationship for those who may not be aware of it. Back when production on the original
Batman
began, costume designer Bob Ringwood faced a small dilemma. Warner Brothers then had a relationship with shoemaker Nike and asked the designer if there was some way of working the brand into the costuming for the film. Ringwood doubted it, noting that "80s sportswear isn't going to fit in with our 1940s look"... but then inspiration struck, and Nike was tasked with providing Batman's boots for the film. Since the boot was covered by the suit's ankle and shin armor, the Nike shoes became almost unrecognizable in the finished movie-
For 1989's
Batman
, Nike used the Air Trainer III. Both Michael Keaton and the stuntmen loved the shoe, which provided a comfortable aspect to an otherwise uncomfortable garb. The relationship was so successful that Nike again provided the shoes for the character's second outing in
Batman Returns
. This time around, Nike used a modified version of their Air Jordan VI shoe, adding an attached boot collar allowing for placement of Batman's shin armor.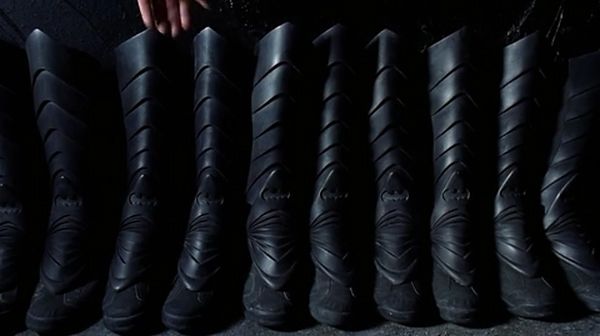 Over the years, the Nike Bat-boots have made their way into private collections, either as pairs or as individuals. One of these collections belonged to Ray Rohr. Ray was a world-renowned robot enthusiast and toy dealer responsible for much of the importing & exporting of Japanese toys throughout the 80's and 90's. His collection of toy and pop culture memorabilia spanned decades and filled an entire warehouse. Kind of like the end scene of Raiders of the Lost Ark... Except filled with really cool stuff.
Ray passed away in 2009. His immense collection was purchased by an estate buyer and has slowly trickled out over the past 4 years. As the current owners work through Ray's belongings box by box, they have to weed out the pricey pieces from the common, worthless ones. In one such box, a single crumbling boot was found. The estate salesman glanced at it, figured it to be just a trashed old shoe, and proceeded to send it to the junk pile... Until something caught his eye: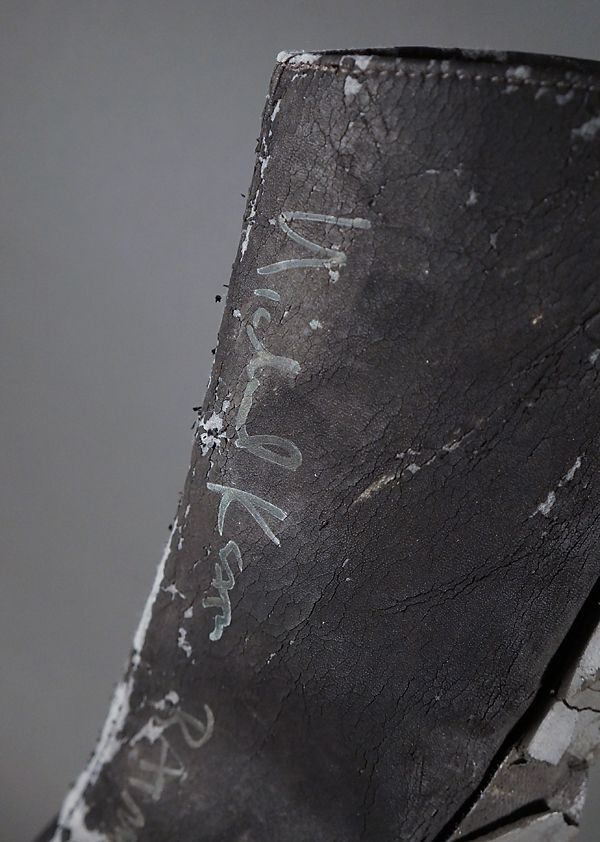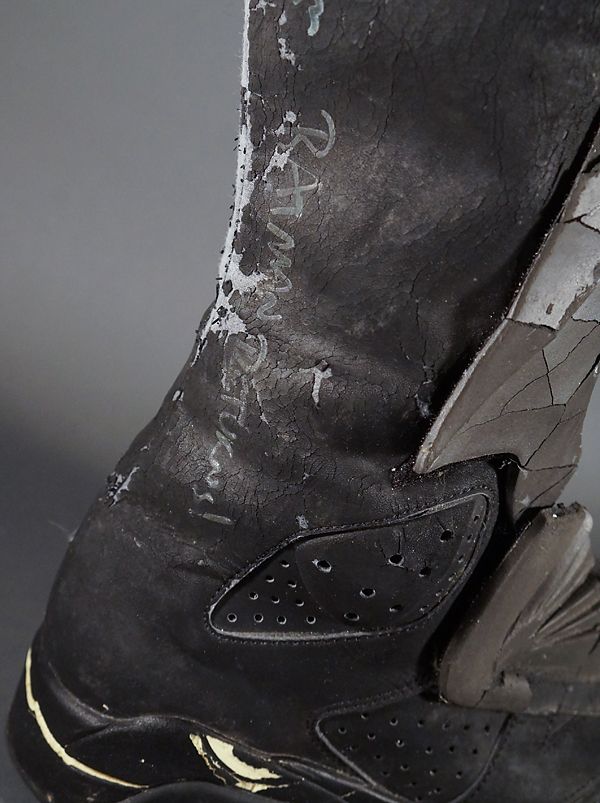 Though faded with age, the signature and inscription were unmistakable- "Michael Keaton Batman Returns!" Turns out that this wasn't just an old dirty boot... This was one of Batman's boots used for Batman Returns, signed by actor Michael Keaton! The seller quickly listed the item for sale on ebay, telling the story about it almost ending up in the garbage and noting that "one man's trash is another man's treasure".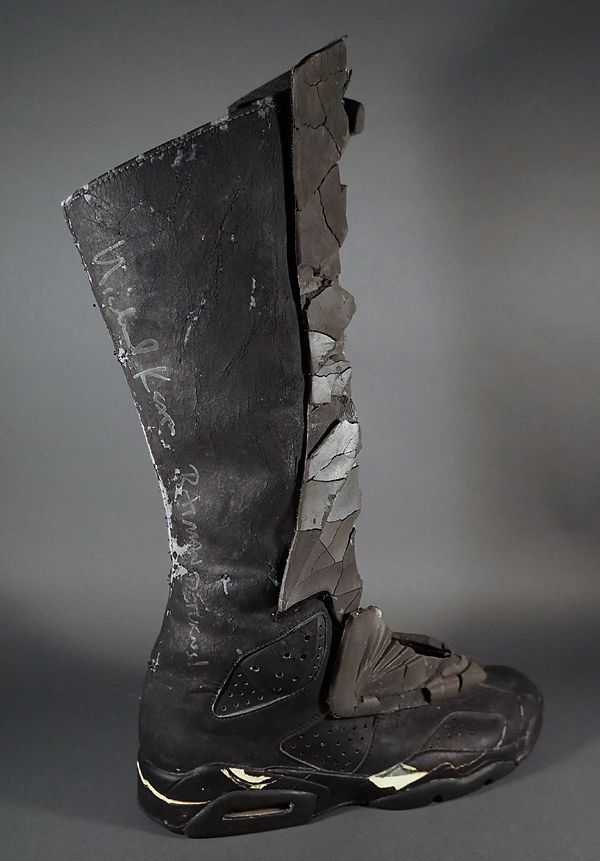 Well, that man ended up being me. :) I watched this puppy until the very last second, making a hopeful bid at the end and walking away with the win. I didn't think I had a chance of getting this... but I believe my success had a lot to do with the lack of "Nike Air Jordan" in the auction title. Had it been listed with that included, I have no doubt I would have lost out to the INCREDIBLY passionate shoe collectors worldwide.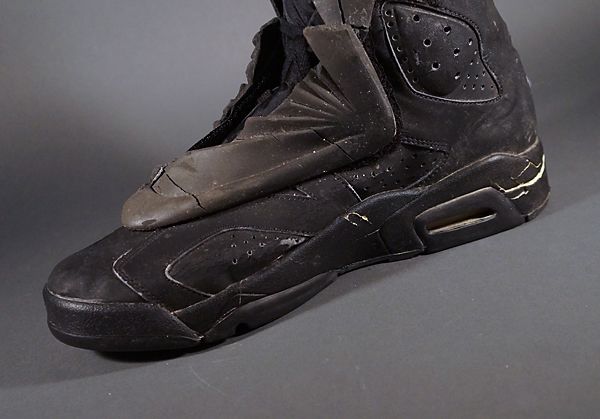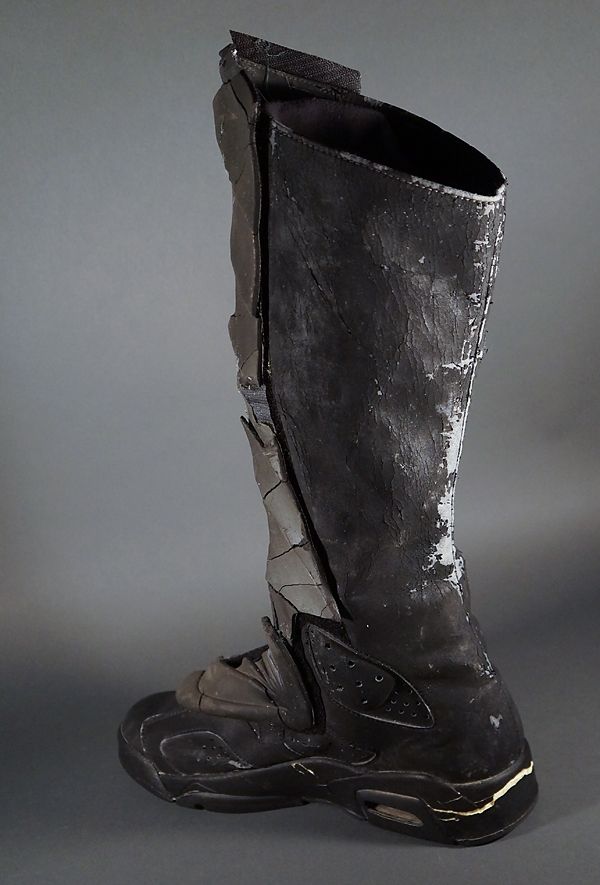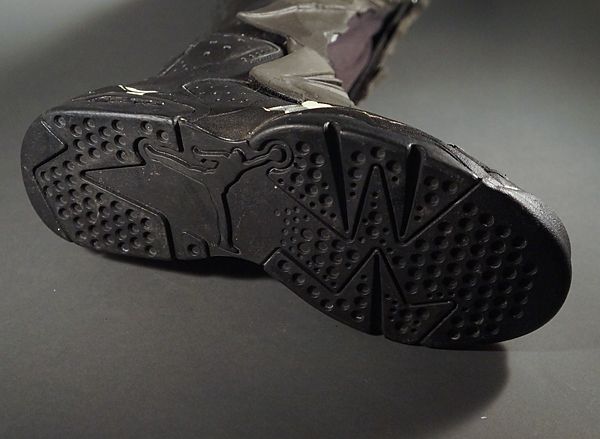 The Nike portion of the shoe is in surprisingly decent shape, given the age and the way it has been stored. There is some flaking where the boot was folded along the back, and some corrosion along the sole (due to the moisture in the air pockets inside). The real damage is to the "armor" up front: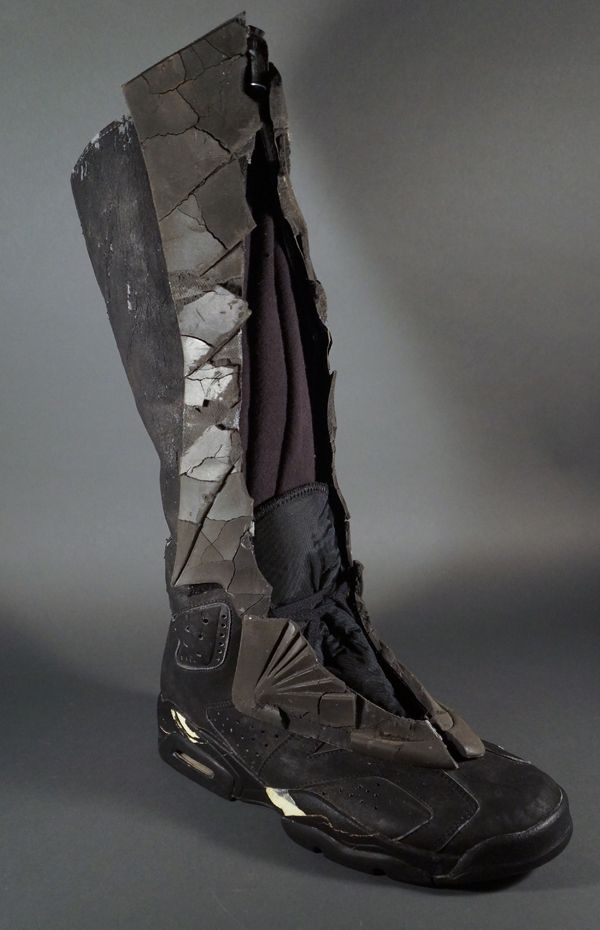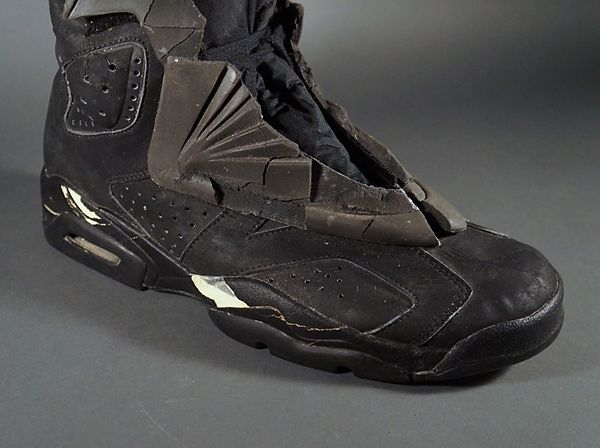 The shin and boot armor are actually separate pieces that are attached by Velcro over the boot fronts, hiding the laces. These pieces are made of urethane foam, which isn't a material that stands up well to the test of time. In the case of this boot, the armor has succumbed to its age and looks as if Batman has gone twelve rounds with the Red Triangle Circus Gang...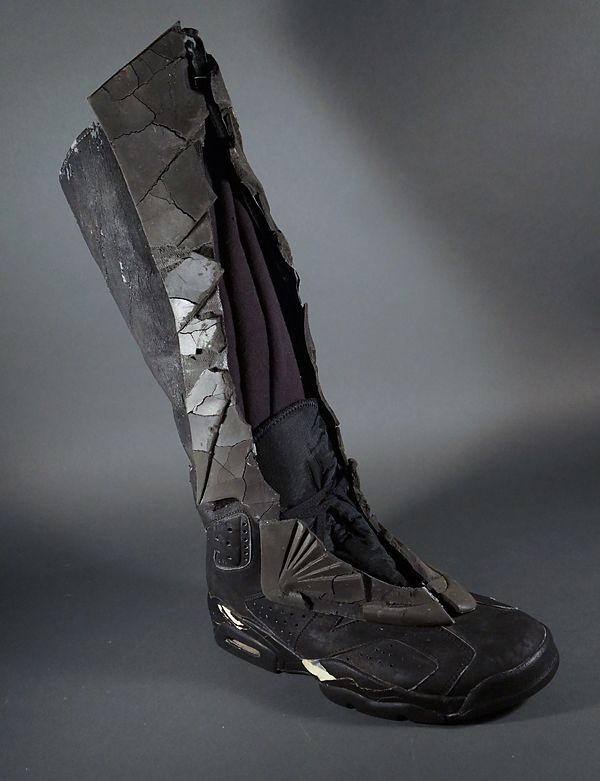 Even given its current state, this is now without a doubt the prize piece of my Burton Batman collection. The Michael Keaton signature is like icing on a cake... but owning an actual piece of one of the Burton Batman suits is a childhood dream realized. And to think that this almost ended up in the trash bin? Well, that gives it a story worth sharing. :)